Contact

First, contact a desired rental center of Heiwa Giken by telephone or using an application form.

Rental contract conclusion

A rental contract is concluded between you and us. * Depending on the examination result, a conclusion may not be concluded. We kindly ask you to accept it.

Quotation and order placement

We quote the prices. If they are acceptable, an arrangement is made to decide on the quantity and delivery date.

Delivery

You can pick up the equipment at the center or have it delivered using a chartered truck. Our rental centers handle incoming and outgoing shipments during periods from 8:30 a.m. to 12:00 p.m. and from 1:00 p.m. to 4:00 p.m.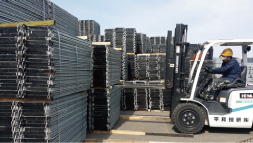 If you use our rental service for the first time
If you use our rental service for the first time, your order will be accepted after an examination. The examination may take long or, depending on the examination result, your order may not be accepted. If this is the case, we kindly ask you to accept it.
● The rented products will be handed over to you at the rental center designated by us. When we deliver them, we charge for the costs and they will be free on truck. ● Each condition will be as per the basic rental contract and quotation sheet.
RENTAL
CONCEPT
Through the manufacture and sale of temporary equipment for building and civil engineering,
we have been making efforts to meet the diverse needs of our customers.
Now, we live a new era of technology, where the building techniques are becoming more and more advanced and diversified.
In step with these advanced and diversified techniques,
we are also focusing our efforts on developing higher-quality products and making environmentally-friendly products.
We think about people and the environment to make proposals toward the future.