Easy to construct!

Consisting of a few components, the Smart Asagao series provides significantly enhanced ease of construction. The series offers the Smart Asagao 18 and 23, which are folding types that are easily portable.

Incomparably beautiful!

The Smart Asagao series products are significantly more beautiful than other Asagaos consisting of single tubes and footboards.

Ultimately safe!

The greatest danger during construction work is accidental falls! The Smart Asagao eliminates the need for workers to put their feet during construction, ensuring significantly higher safety.

Economical!

The Smart Asagao series products are rentable, requiring no cost for purchasing a large quantity. You can rent products only when necessary.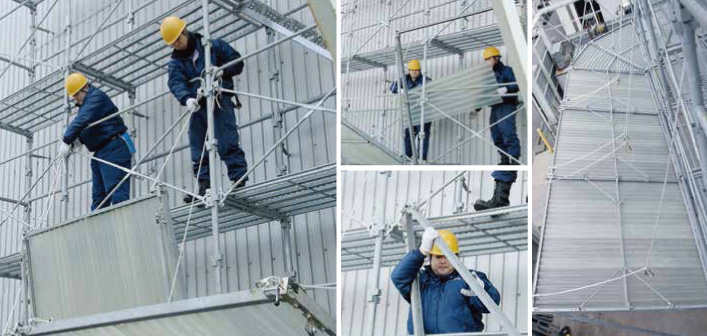 The falling-object endurance test conducted by us demonstrated
that the Smart Asagao is robust enough to endure even HA36 column.
The panel is not even damaged by a handrail or small component (such as a clamp).
The angled panel let falling objects drop to the scaffold side, allowing almost no objects to fall outside.

Product name
Item code
width × length
Total weight
Smart ASAGAO 18
HAS-1818
1800mm×1800mm
65.5kg
HAS-1809
1800mm×900mm
45.3kg
HAS-1806
1800mm×600mm
36.0kg
HASK-18
1800mm
63.6kg
Smart ASAGAO 23
HAS-2318
2300mm×1800mm
78.6kg
HAS-2309
2300mm×900mm
55.0kg
HAS-2306
2300mm×600mm
44.2kg
HASK-23
2300mm
87.5kg
CONCEPT
Through the manufacture and sale of temporary equipment for building and civil engineering,
we have been making efforts to meet the diverse needs of our customers.
Now, we live a new era of technology, where the building techniques are becoming more and more advanced and diversified.
In step with these advanced and diversified techniques,
we are also focusing our efforts on developing higher-quality products and making environmentally-friendly products.
We think about people and the environment to make proposals toward the future.