For Gardening
Mini coupler Series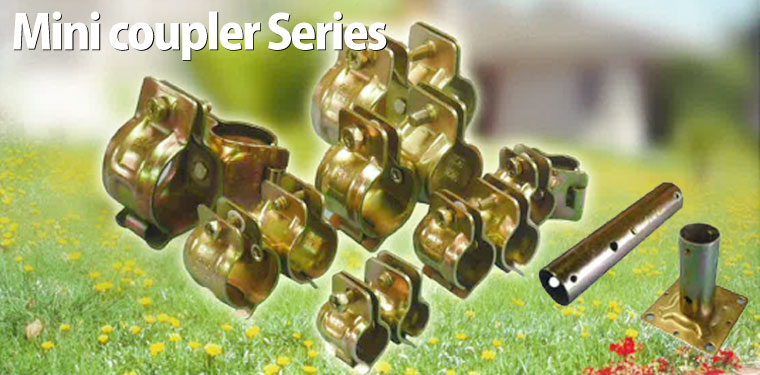 This series offers couplers best suited for agricultural houses or gardening.
They are simplified couplers.
You can assemble them with a single Philips screwdriver. They support pipe diameters from 19.1 to 48.6.
The 25.4-dia coupler can be used as a 22.2-dia coupler, 31.8 as 28.6, 38.1 as 34, and 48.6 as 42.7.
Item Code
Quantity per case
Weight
Mini coupler
19.1
19.1
Swivel
H-1019
120
11.4kg
Right angle
H-1020
120
11.4kg
25.4
Swivel
H-1021
120
13.8kg
Right angle
H-1022
120
13.8kg
31.8
Swivel
H-1023
120
15.0kg
Right angle
H-1024
120
15.0kg
38.1
Swivel
H-1029
80
14.0kg
Right angle
H-1030
80
14.0kg
48.6
Swivel
H-1025
40
10.0kg
Right angle
H-1026
40
10.0kg
Mini coupler
25.4
25.4
Swivel
H-1009
120
15.6kg
Right angle
H-1010
120
15.6kg
31.8
Swivel
H-1011
100
14.0kg
Right angle
H-1012
100
14.0kg
38.1
Swivel
H-1031
80
15.2kg
Right angle
H-1032
80
15.2kg
48.6
Swivel
H-1015
40
10.8kg
Right angle
H-1016
40
10.8kg
Mini coupler
31.8
31.8
Swivel
H-1013
100
15.0kg
Right angle
H-1014
100
15.0kg
38.1
Swivel
H-1033
80
16.8kg
Right angle
H-1034
80
16.8kg
48.6
Swivel
H-1017
40
11.2kg
Right angle
H-1018
40
11.2kg
Mini coupler
38.1
38.1
Swivel
H-1027
80
20.0kg
Right angle
H-1028
80
20.0kg
48.6
Swivel
H-1035
40
12.8kg
Right angle
H-1036
40
12.8kg
Mini coupler Joint
25.4
H-1111
120
13.0kg
31.8
H-1110
120
16.0kg
38.1
H-1109
60
15.0kg
Mini coupler Base
25.4
–
60
13.0kg
31.8
–
60
14.5kg
38.1
–
60
16.0kg
* Precaution
Our mini-coupler series offers simplified couplers that are not certified for use as scaffolds. Please be advised that they are not designed for use as scaffolds. (Workers are not allowed to step on them.)